Luminous Butterfly Necklace

The butterfly luminous necklace is made from high quality stainless steel material, which makes it very durable for a long time use without any damage caused by external factors such as water or sweat. The back side of this luminous butterfly necklace has an engraved design that makes it looks more attractive than other ordinary butterfly necklaces.
Be sure to get yours before they fly away.
Quick Note: Put the pendant under bright light before for a while to get the full glow effect.
Details & Size
Metal: 925 Silver
Chain:17 Inch
Pendant Size: 2*1.5cm
Package Includes:
1 x Luminous Butterfly Necklace with 17 Inch Chain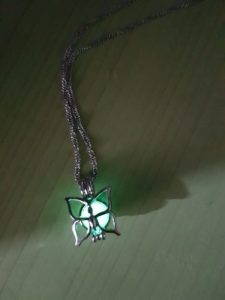 This beautiful, I don't know if it shines in the dark but it is very beautiful and besides the chain this spectacular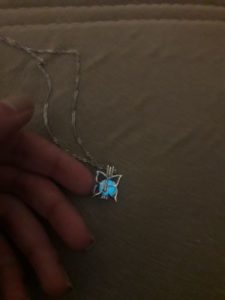 It was a good size of the pendant and the glow in the dark is really strong and surprisingly blue instead of the usual greenish tone! Thanks!